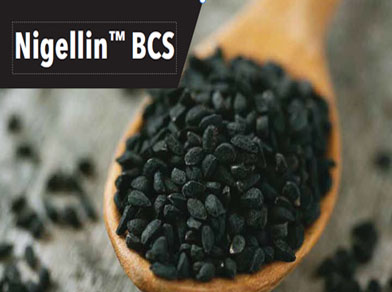 NIgellin®, Nigella Sativa, Black Seed, Zwarte cumin
Nigella sativa, popularly known as 'black seed,' or 'black cumin,' one the most revered medicinal seeds in history of mankind, is indeed a gift from the Mother Nature—owing to its well-established, sanctified, and miraculous uses for over 3,000 years. Various medicinal and healing properties of black seed are directly mentioned in the Qur'an as 'blessed food.' Black seed has also been mentioned in the Bible as the 'curative,' used by Asian herbalists and the Romans for culinary purposes for centuries.
The ancient wisdom of using this 'seed of blessing' in various medicinal practices across the world for treating and preventing a broad array of health conditions and maintaining general wellness in humans has earned it the fame of 'Panacea' meaning 'cure all' in old Latin.
Sabinsa's Nigellin™ BCS is obtained from the seeds of Nigella sativa (Black Cumin) and standardized to contain Thymoquinone, Thymohydroquinone, Hederagenin with added Rosmarinic acid. Nigellin™ BCS is available in AMBER, ONYX, and PEARL grades.
• *Source : Sabinsa
• *These statements have not been evaluated by the EFSA. This product is not intended to diagnose, treat, cure, mitigate or prevent any disease.